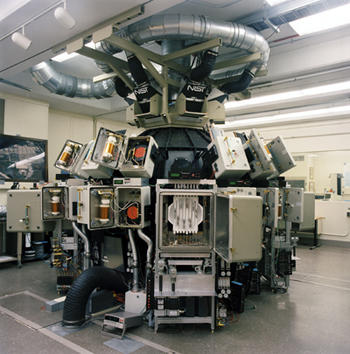 In the artificial ultraviolet (UV) weathering of materials, a need exists for weathering devices that can uniformly illuminate test specimens with a high level of irradiance, and additionally provide capabilities such as mechanical loading. Developed under the auspices of the NIST Coatings Service Life Prediction Consortium, the NIST 2 m integrating sphere provides a source of collimated ultraviolet radiation in the 290 nm to 400 nm region of the spectrum. Visible and infrared components of the input radiation are largely removed by dichroic mirrors or filters. The physics of integrating spheres ensures that the uniformity of the UV radiation emitted from a sphere exit aperture is ³ 95%. By coupling the integrating sphere with a high intensity UV light source, irradiance levels equivalent to 60 or more "suns" can be achieved at the sphere exit apertures.
The exit apertures in the sphere can be connected to specimen chambers, with the specific type of chamber utilized being dependent on the material being tested. Specimen chambers equipped with grips will apply mechanical loads to specimens while they are undergoing UV exposure. Temperature and relative humidity can be independently controlled and monitored over a wide range and over long exposure periods. It will also be possible to cycle temperature, humidity and loading levels over the course of an experiment, if desired. The intensity and spectral distribution of the UV radiation can be modified by using the appropriate filters.
The ability to independently vary spectral irradiance, mechanical loads, temperature and humidity provides researchers with a high level of flexibility in designing artificial weathering experiments.
Smaller versions of this device utilizing similar technology are currently being developed that are intended for commercial use by materials producers and researchers.