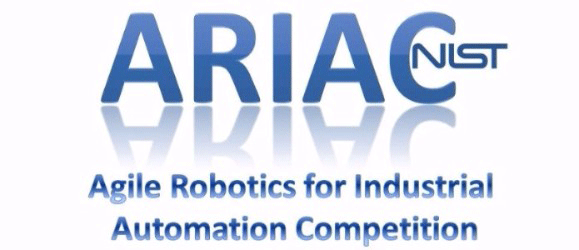 We are proud to announce the first ever Agile Robotics for Industrial Automation Competition (ARIAC). The competition is a joint effort between the IEEE Conference on Automation Science and Engineering (CASE) and NIST's Intelligent Systems Division. We are in the process of planning this simulation-based competition which is designed to promote robot agility by utilizing the latest advances in artificial intelligence and robot planning. We invite you to become a part of the planning of this first ever competition. Involvement may include but is not limited to:
Competition Information Dissemination: Helping to convey competition information and announcements to a broad audience.
Potential Participant: Participating as a team in the competition.
State of the Art Adviser: Sharing expertise about what is common in industry and where technology is headed.
Technology Transfer Adviser: Providing advice to ensure that the competition results are useful and make it into the hands of industry.
A core focus on this competition is to test the agility of industrial robot systems, with the goal of enabling industrial robots on your shop floors to be more productive, more autonomous, and to require less time from shop floor workers. In this context, we define agility broadly to address:
Failure identification and recovery, where robot can detect failures in a manufacturing process and automatically recover from those failures
Automated planning, to minimize (or eliminate) the up-front robot programming time
when a new product is introduced
Fixtureless environment, where robots can sense the environment and perform tasks
on parts that are not in predefined locations
Plug and play robots, where robots from different manufacturers can be swapped in an
out without the need for reprogramming
Competition participants will be using the latest advances in artificial intelligence and robot planning and control to tackle these challenges, which will then be released in the public domain for you to evaluate on your shop floor. We want to ensure that the challenges that they address are truly representative of the challenges you are facing in your company. As such, we ask for your input in helping to define these challenges.
Measurement Science Challenge
Develop performance metrics, information models, test methods, and protocols to enable manufacturers to assess and assure the agility performance of their robot systems 
Potential Impact 
Lot size 1 assembly in automated lines
Reduced line down time due to programming
Less human intervention required due to assembly errors
Major Outcomes
Metrics and test methods to measure robot agility
A robot description model allowing robot vendors and manufacturers to clearly and accurately characterize their robots
Methods, protocols, and information models to allow for dynamic tasking/re-tasking
An integrated agility framework enabling manufacturers to assess and assure the agility performance of one or many robots
Co-Sponsors



Competition Staff
Craig Schlenoff
craig.schlenoff [at] nist.gov
William Harrison
william.harrison [at] nist.gov

Tony Downs
anthony.downs [at] nist.gov
100 Bureau Drive, M/S 8230
Gaithersburg, MD 20899-8230
Subscribe to our mailing list
Please send an e-mail to william.harrison [at] nist.gov  with the following information:
Name, affiliation, e-mail address and area of interest.
Areas of interest: State of the Art Adviser, Technology Transfer Adviser, Contest Information Dissemination, Potential Participant, General Information