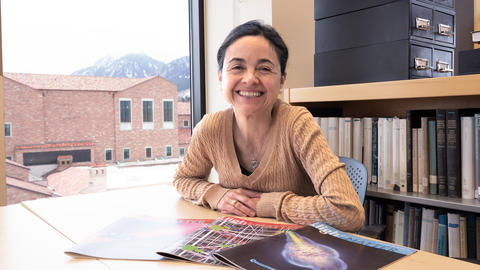 The 2023 Class of Vannevar Bush Faculty Fellows will join an esteemed group of approximately 50 current fellows involved in vital basic research for the DOD. Their research spans a wide range of disciplines, including materials science, cognitive neuroscience, quantum information sciences, and applied mathematics. While pursuing individual research endeavors, the scientists will collaborate directly with defense laboratories, contribute their insights to DOD leadership, and engage with the broader national security community to enrich the collective knowledge base of the defense enterprise.
Ana Maria Rey's research topic is Harnessing Long-lived Multi-level Atoms in Optical Cavities for Quantum Simulation and Sensing.
"It is a great honor to receive the Vannevar Bush Fellowship," Rey stated. "It is very exciting since it will help push my research on long-lived multilevel atoms in optical cavities. These are extremely complex systems but with tremendous potential to push the frontier of quantum metrology and simulation. The goal is to develop theory models to guide Cavity QED experiments to uncover the rich and unexplored physics offered by photon-mediated interactions and the untapped opportunities encountered when more than two-internal levels per atom participate in the dynamics."