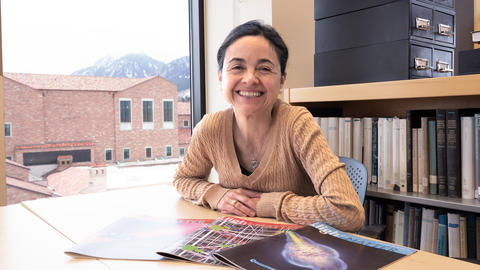 Dr. Ana María Rey is a world-leading quantum theorist who collaborates daily with foremost experimental scientists to advance NIST measurements and technologies, such as the world's best atomic clocks, world-leading programs in ultracold molecules and ultracold chemistry, and world-record entanglement of ions for quantum simulation and precision measurements.
Dr. Rey leads a remarkable 22 separate research projects performed by a team of 14 graduate students and postdoctoral fellows at JILA (formerly the Joint Institute for Laboratory Astrophysics), a joint institute of NIST and the University of Colorado Boulder, pioneering new quantum theories that are guiding experimentalists to make vastly improved quantum-based measurements and technologies.
Dr. Rey is a renowned expert in the quantum correlation physics that is driving the current quantum information revolution recognized by the U.S. National Quantum Initiative. Her innovative theoretical research in complex interactions within quantum systems of atoms, ions, and molecules has already led directly to improvements in NIST measurements and quantum technologies and promises to have even greater future impacts. For example, Dr. Rey's research underpins years of improvements to optical atomic clock precision and accuracy at NIST, to the point that this technology will soon replace cesium clocks in a major upgrade to the definition the second, the unit of time in the International System of Units (SI). Dr. Rey's research is central to U.S. leadership in atomic clocks. Dr. Rey has opened entirely new fields of scientific inquiry, and her work is being pursued around the world.