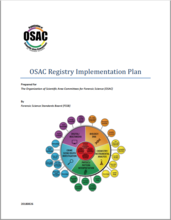 The Forensic Science Standards Board (FSSB) of the Organization of Scientific Area Committees for Forensic Science (OSAC) has prepared an OSAC Registry Implementation Plan for our forensic science partners.  This Implementation Plan describes various strategies that OSAC might adopt to encourage forensic service providers, associations, the criminal justice system, academia, government agencies, and other stakeholders to promote and implement the approved standards listed on the OSAC Registry. 
The FSSB has included many potential pathways for encouraging the adoption of OSAC-approved standards and seeks feedback on these pathways and suggestions for how to prioritize and improve them.  Through engagement with stakeholders, we can determine the best way to move forward with implementation.  Our ultimate goal is to have stakeholders in the forensic science and criminal justice communities embrace the approved standards listed on the OSAC Registry and implement them into everyday practice.
Read the OSAC Registry Implementation Plan .