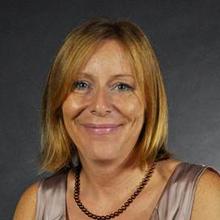 Sarah Kerrigan is the chair of the Department of Forensic Science at Sam Houston State University. She is a contributing author for numerous forensic science textbooks and has published scientific articles and original research on a wide range of topics. She maintains an active research program in addition to her administrative duties as an academician. She received her initial training in forensic toxicology in 1990 at the Scotland Yard Forensic Laboratory in London, England. Since then she has held a variety of positions in publicly funded crime laboratories, industry and academia.
Her current academic role is complemented by her practitioner experience as a forensic scientist and laboratory director in ASCLD-LAB, ABFT and ISO/IEC 17025 accredited laboratories in California, New Mexico and Texas. Kerrigan is a former president of the Society of Forensic Toxicologists and has held a variety of elected positions in regional and national forensic professional organizations. She has a long-standing commitment to the advancement of forensic science in the United States. She served on the Accreditation and Certification Interagency Working Group of the National Science and Technology Council's Subcommittee on Forensic Science, the Scientific Working Group for Forensic Toxicology and was appointed to the Texas Forensic Science Commission in 2007, where she is vice chair.
She was appointed to the FSSB in 2014.