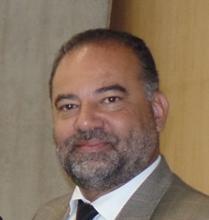 José R. Almirall is a Professor in the Department of Chemistry and Biochemistry and Director of the International Forensic Research Institute (IFRI) at Florida International University. He was a practicing forensic scientist at the Miami-Dade Police Department Crime Laboratory for 12 years, where he testified in over 100 criminal cases in state and federal courts prior to his academic appointment at FIU in 1998. Professor Almirall has authored one book and ~ 120 peer-reviewed scientific publications in the field of analytical and forensic chemistry and presented ~ 600 papers and workshops in the U.S., Europe, Central and South America, Australia, New Zealand, Japan and South Africa. The interests of Prof. Almirall's research group include fundamental analytical chemistry and the development of analytical chemistry tools for use in forensic science including materials analysis, trace detection and analysis of drugs and explosives. His research group has been awarded 2 patents resulting from technology developed at FIU and received ~ $ 7 million in research funding from federal agencies such as the NSF, DoD, NIJ, TSWG and from industry sources. Some of the research in his group has been transitioned into 5 different ASTM standard methods of analysis.
Prof. Almirall is a Fellow of the American Academy of Forensic Sciences (AAFS), the founding chairman of the Forensic Science Education Programs Accreditation Commission (FEPAC) of the AAFS, past Chair of the FBI-sponsored Scientific Working Group on Materials (SWGMAT) Glass subgroup, a member of the editorial board of the Journal of Forensic Sciences and was appointed to serve on the Scientific Advisory Committee of the Department of Forensic Science Commonwealth of Virginia by two different governors of the State of Virginia. Dr. Almirall has served as a consultant to the United Nations Office on Drugs and Crime (UNODC) and to the International Atomic Energy Agency (IAEA) on forensic science matters.
He was appointed to serve on the Forensic Science Standards Board in 2015.