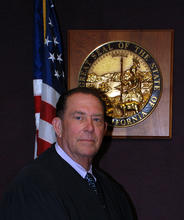 Christopher J. Plourd is the presiding Judge of the Imperial County Superior Court in El Centro, California. Plourd was appointed by Governor Jerry Brown to Superior Court in Imperial County California in December 2011. Prior to his judicial appointment, he was a practicing litigation attorney for over 31 years in San Diego and El Centro, California where he specialized in cases involving Forensic Scientific Evidence. 
Judge Plourd belongs to numerous legal and scientific organizations and is a fellow of the American Academy of Forensic Sciences. Judge Plourd also belongs to the American Association for the Advancement of Science, ASTM International E-30 committee on Forensic Science, the American Society of Forensic Odontology, the California Judges Association and the American Judges Association. Before he was appointed to the bench Judge Plourd was a member of the State Bar of California, the San Diego County Bar Association, and California Attorneys for Criminal Justice. National Organization for Criminal Defense Attorneys until his judicial appointment.
Since July 2014 Judge Plourd has served as the Legal Resource Committee (LRC) chair and a member of the Forensic Science Standards Board (FSSB) for the Organization of Scientific Area Committees for Forensic Science (OSAC).
He has a B.S. from Butler University and a J.D. from Thomas Jefferson School of Law.