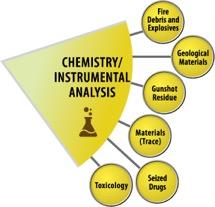 The Chemistry/Instrumental Analysis SAC provides strategic direction, serves as a platform to integrate similar standards activities across multiple forensic science disciplines, and manages the activities of the following subcommittees:
Learn more about the Chemistry/Instrumental Analysis SAC published in the February 2018 OSAC Newsletter.

Jose Almirall, Ph.D., SAC Chair, Florida International University
Christopher Bommarito, SAC Vice Chair, Forensic Science Consultants Inc.
Chris Taylor, SAC Executive Secretary, Defense Forensic Science Center, U.S. Army Criminal Investigation Laboratory
Andrew Bowen, U.S. Postal Inspection Service, Chair of the OSAC Geological Materials Subcommittee
Patrick Buzzini, Sam Houston State University
Carl Chasteen, State of Florida, Division of State Fire Marshall
William Guthrie, U.S. National Institute of Standards and Technology
Susan Seebode Hetzel, S-E-A, Ltd. Chair of the OSAC Fire Debris and Explosives Subcommittee
Marc LeBeau, Ph.D., U.S. Federal Bureau of Investigation, Chair of the OSAC Toxicology Subcommittee
Stephen Morgan, Ph.D., University of South Carolina
Adam Negrusz, Ph.D., United States Drug Testing Laboratories, Inc.
Scott Oulton, U.S. Drug Enforcement Administration
Sandra Rodriguez-Cruz, Ph.D., U.S. Drug Enforcement Administration, Chair of the OSAC Seized Drugs Subcommittee
Rodney Simmons, Wyoming State Crime Laboratory, Chair of the OSAC Gunshot Residue Subcommittee
Eric Steel, U.S. National Institute of Standards and Technology
Diana Wright, FBI Laboratory, Chair of the OSAC Materials (Trace) Subcommittee 

Hal Arkes (HFC)
Lynn Robitaille Garcia, General Counsel, Texas Forensic Science Commission (state government) (LRC)
Bruce Houlihan, Director, Orange County Crime Laboratory/Orange County Sheriff-Coroner, Representative to Chemistry/Instrumental Analysis SAC (QIC)