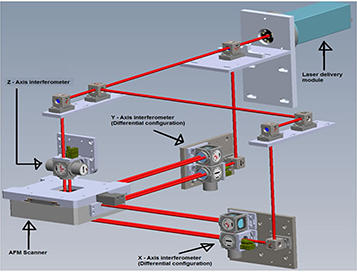 The project provides the metrological underpinnings and reference measurements that support other instruments used in nanoscale metrology for a wide range of applications in optics and photonics, advanced IC characterization, and biotechnology industries among others (internal and external customers). The activities which span from fundamental understanding of tip SPM image formation to instrument development, to standards development, are motivated by the need to provide SI traceable dimensional measurements for nanoscale features, supported by rigorous uncertainty specifications to users. The project currently has the only dimensional metrology AFM at NIST with direct traceability to the SI meter, and is in line with NIST and PML's priorities in disseminating traceable measurements for nanoscale features.
The best measurement uncertainty for a height sample using the T-AFM is 0.03 nm (K=2). Customers and collaborators who have used the NIST AFM calibration service include Bruker- Nano, NanoDevices, VLSI, Advanced Surface Microscopy, among others. SI traceable measurements for calibration sample vendors help underpin the national measurement system since these values are propagated to thousands of samples a year. These samples are then used on regular basis by the end users for nanoscale characterization and instrument evaluation.
We participate and contribute to standardization efforts (through ISO and CCL) for scanning probe microscopy. This includes procedures and documentary standards for AFM nanoscale length calibration, and standards aimed at understanding instrument behavior and performance.