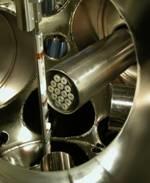 We currently operate three beamlines at the National Synchrotron Light Source (NSLS) at Brookhaven National Laboratory that have the following measurement capabilities: (1) near-edge X-ray absorption fine structure (NEXAFS) spectroscopy; (2) extended X-ray absorption fine structure (EXAFS) spectroscopy; (3) variable kinetic energy X-ray photoelectron spectroscopy (VKE-XPS); and (4) imaging XPS (under development). The spatial and energy resolution of these methods are continually improved, primarily through the development and implementation of novel detectors.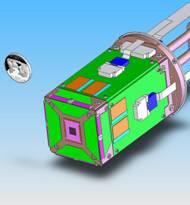 Other thrusts of our effort are to: (1) design and implement novel sample manipulation hardware and environment control, including combinatorial methods; (2) develop analytical tools (methods and software) for data interpretation; and (3) work with NSLS staff to design and develop a beamline that meets the requirements for operation at NSLS-II, a next-generation synchrotron facility.
Impact and Customers:
Globally, more than 50,000 scientists each year employ synchrotron X-ray measurements to characterize materials and devices for a broad spectrum of applications. The continuous development of X-ray measurement technology with increased spatial and energy resolution will have a broad impact on many
technology sectors.
A 3-D chemical imaging detector with nanoscale resolution that will be broadly applicable to the semiconductor industry is being developed in collaboration with
R. Browning Associates through a NIST Small Business Innovative Research (SBIR) grant.
NIST has enabled advances in X-ray detector technology by designing detectors with greater sensitivity and selectivity than those commercially available and
working with detector manufacturers through SBIR grants to produce such detectors. Synchrotron facilities worldwide have adopted these detectors.