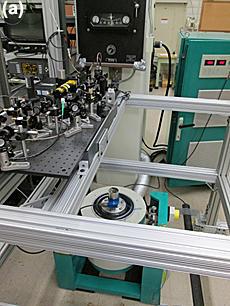 We have developed a system for calibration up to force bandwidths of 2 kilohertz and amplitudes of 2 kilonewtons, based on measuring the acceleration of a known load mass. We have demonstrated calibration at a k = 2 uncertainty level of 1.2 % using this system. We have also demonstrated calibration of a dynamic force transfer standard with a k = 2 uncertainty of 2.1 % up to a frequency of 5 kHz. We are working on applying these to force measurement applications, while reducing the uncertainty and extending the bandwidth.
Selected Publications:
[1] N. Vlajic and A. Chijioke, "Traceable dynamic calibration of force transducers by primary means", Metrologia 53, S136, 2016.
[2] N. Vlajic and A. Chijioke, "Traceable calibration and demonstration of a portable dynamic force transfer standard", Metrologia 54, S83, 2017.
[3] N. Vlajic and A. Chijioke, "Impact mechanics parametric studies with applications to dynamic force calibration", ASME 2017 International Design Engineering Technical Conferences & Computers and Information in Engineering Conference, paper DETC2017-67893, 2017.
[4] A. Chijioke and N. Vlajic, "High-bandwidth Kibble-balance dynamic force standard", submitted for publication.