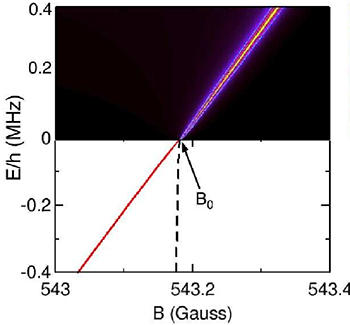 We investigate by first-principle theoretical simulations both room-temperature and ultracold collisions of atoms and molecules. For ultracold temperatures we focus on resonant phenomena, the Fano-Feshbach resonance, controllable with external magnetic fields. These resonance have been instrumental in the observation of evidence for superfluid Cooper pairing of fermionic atoms as well as the study of Efimov trimers in bosonic atoms. Recently, it was realized that the distribution of the locations of these resonances is chaotic for highly magnetic lanthanide atoms. For room temperature collisions we focus on characterizing forward scattering processes that impart small momenta.
This research is done in collaboration with scientists at the Joint Quantum Institute (JQI), a research partnership between NIST and the University of Maryland.
Directions (in random order):
Reactivity of ultra-cold molecules
Quantum chaos in the collisions of magnetic atoms
Fundamental theory in to resonant Fano-Feshbach scattering
Efimov trimers and few body physics
Elastic collisions at room temperature
Selected Recent Publications:
K. Jachymski, M. Krych, P. S. Julienne, and Z. Idziaszek, Quantum-defect model of a reactive collision at finite temperature, Physical Review A 90, 042705 (2014).
Y. Wang, and P. S. Julienne, Universal van der Waals physics for three cold atoms near Feshbach resonances, Nature Physics 10, 768–773 (2014).
A. Petrov, E. Tiesinga, and S. Kotochigova, Anisotropy-Induced Feshbach Resonances in a Quantum Dipolar Gas of Highly Magnetic Atoms, Physical Review Letters 109, 103002 (2012).
T. M. Hanna, E. Tiesinga, W. F. Mitchell, and P. S. Julienne, Resonant control of polar molecules in individual sites of an optical lattice, Phys. Rev. A 85, 022703 (2012).