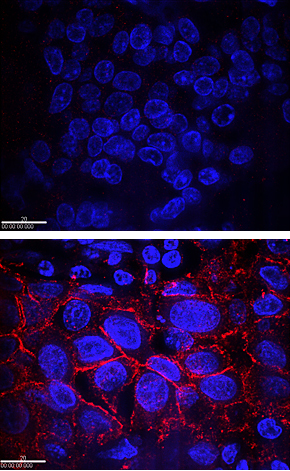 Personalized cancer therapies are resulting in a paradigm shift in the treatment of cancer. To ensure that valuable time and expensive clinical testing are reserved for disease-relevant cancer biomarkers, it is critical to identify useful biomarkers at the earliest possible stage, and to eliminate non-reliable biomarkers.
New research approaches and instruments have enabled researchers to complete large-scale parallel measurements, resulting in large data sets that dramatically increase the discovery rate of potential biomarkers.  However, a low percentage of the identified biomarkers will prove valuable to disease diagnostics and treatment and achieve successful clinical translation. In order to increase the success rate in the discovery of new cancer biomarkers, NIST is working to improve the quality of the data produced through the development of reference materials, assay measurement validation, and interlaboratory testing processes. NIST is a non-regulatory agency that seeks to work with all of the stakeholders in the cancer community to improve the measurement process.
Program in Cancer Biomarker Reference Material Development
NIST develops reference materials for cancer biomarkers. The reference materials can be used to improve measurements for the measurement assurance of assays used in basic research and for clinical measurements. The reference materials are developed in consultation with cancer experts from industry, academic, and government laboratories. We have developed a NIST standard reference material (SRM) for Human Epidermal Growth Factor Receptor 2 (HER2). The gene for HER2 is frequently amplified in breast cancer. The standard consists of purified genomic DNA from five breast cancer cell lines with different amounts of HER2 gene amplification. This reference material is available from NIST as SRM 2373. We currently in production of another reference material for measurements of the genes the Receptor Tyrosine Kinase for MET Proto-Oncogene (MET) and Epidermal Growth Factor Receptor (EGFR). This new standard when completed will be available as Reference Material 8366. The standard consists of purified genomic DNA from six different cancer cell lines. We are working with our stakeholders to bring develop additional reference materials to improve measurement reliability and confidence for important cancer biomarkers. 
Biomarker Reference Laboratory
NIST supports the
National Cancer Institute (NCI) Early Detection Research Network (EDRN)
as a Biomarker Reference Laboratory by efficiently validating the measurement of potential biomarkers.  By increasing the quality of the data produced at each of the stages in the biomarker discovery and validation processes, NIST and the EDRN are working to reduce both the time and resources expended in developing successful biomarkers.
NIST analyzes the measurements of specific biomarkers as identified by the EDRN discovery labs, and identifies critical areas where improvements in the measurement infrastructure will significantly impact the quality of the biomarker measurement.   Working with the EDRN, NIST is focused on processes for reducing irreproducibility in biological studies by developing
reference materials
 to ensure the quality assurance of measurements, and
 interlaboratory testing
 as a process to improve the quality and to increase confidence in the measurement of cancer biomarkers for discovery and clinical validation assays.