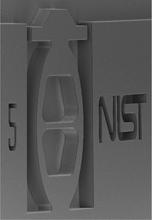 We are designing, fabricating, and testing specialty test structures largely based on a theta geometry. The theta test specimen is a simple and elegant way to measure the mechanical properties of materials at ultra-small length scales without the need for special grips. The test specimen is diametrally compressed via instrumented indentation, or nanoindentation, which places the central "web" section in uniform tension. Finite element method (FEM) modeling is used to design robust specimen and loading configurations. Emphasis is placed on measuring strength, fracture resistance, and compliance. Fractography is used to correlate mechanical testing results to fabrication conditions. Methods to fabricate, inhouse, silicon (Si) test structures with deep reactive ion etching (DRIE) have been developed. Test specimens of Si and other materials such as poly-Si, SiC, poly-diamond, and alumina that are made by DRIE, focused ion beam etching, and laser micro-machining will be acquired in collaborative activities with the Center for Integrated Nanotechnology (CINT), the Pennsylvania State University, and Cornell University. In addition to the theta test structure, we are also investigating a new C-ring structure to measure nano-scale bending strengths.
Impact and Customers:
The MEMS industry currently generates revenues of about $45B/year, dominated by two non-contact devices: inkjet printer heads and ccelerometers. An increasingly large share is arising from micro-mirror devices, which are contact devices.
Commercial exploitation of MEMS and ultimately NEMS technology to a plethora of contacting sensor and actuator devices depends critically on the ability to make accurate reliability predictions. 
MML standard test specimens and methods will enable device developers to measure mechanical properties needed for device design and reliability prediction, resulting in devices with longer lifetimes that can function under a broad range of operating conditions.