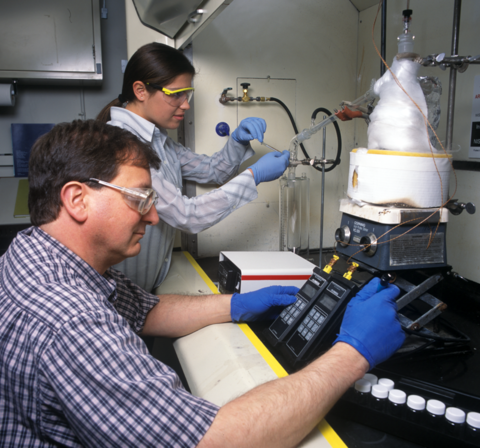 Summary
NIST is a world leader in metrology: the measurement of fundamental properties of materials.  We develop state of the art measurement capabilities, and use those capabilities to provide the most reliable measurements.  In every measurement we make, evaluation of uncertainty plays a critical role.  Part of the mission of the Fluid Characterization Group is to share the know-how developed over the 60-year history of our program.  This is, of course, done through publication and conference presentations, but it is also done through a program of short courses targeting groups of stakeholders.
We have developed several different curricula suited to the needs of our students from various sectors of the scientific and technical community.  Our comprehensive courses contain lecture and lab sessions that cover a large swath of a field or sub-discipline.  An example is our offering on Fluid Thermophysical Property Measurement.  This course introduces the student to all of the measurements (density, sound speed, heat capacity, thermal conductivity, viscosity, volatility, composition and decomposition, etc.) needed to fully describe a fluid.  We also offer more targeted programs, often focusing on a specific metrology.  For example, our Advanced Distillation Curve course provides the student with all necessary training to operate their own instruments and interpret their measurements.
Our short courses typically include both lectures and laboratory exercises.  In the laboratory, students receive hands-on instruction with a variety of instruments.  Course materials are also provided, including text, lecture slides, and lab manuals.  Each course is preceded by sessions on security and safety, followed by the treatment of uncertainty.  Indeed, safety and the treatment of uncertainty pervades every aspect of every course.  In some of our offerings, such as the course on vapor characterization, we include features pertinent to the forensic process such as mock voir dire and moot court.
Current short course offerings include:
            Thermodynamic Property Measurement
            Transport Property Measurement
            Vapor Characterization
            Chemical Characterization
            The Advanced Distillation Curve Method
Our 2016 student groups included:
            Technical Staff, Aircraft Division, Naval Air Station Patuxent River
            Members of the Judiciary, through the National Court and Science Institute
            Memorial University, CA
            Clarkson University, NY