Our approach is to develop standard reference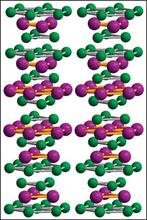 materials, measurement methods, and combinatorial methodologies to accelerate the commercial introduction of thermoelectric materials to the market place. Especially for the case of thin film thermoelectric materials, there are currently no methods to accurately and reproducibly (laboratory to laboratory) measure the material properties that determine thermoelectric conversion efficiency, i.e., Seebeck coefficient (S), resistivity (p), and thermal conductivity (k). High-throughput combinatorial methodologies will be employed to generate comprehensive data sets (S, p, k) for industrially relevant bulk and thin film thermoelectric materials. We will also collaborate with industrial, university and government laboratories to generate the appropriate data sets and standard reference materials.
Impact and Customers:
Thermoelectric SRMs and measurement methods will allow for inter-laboratory validation of data, thereby accelerating the selection and optimization of thermoelectric materials. This will lead to more rapid commercialization of thermoelectric materials for waste heat recovery and solid-state cooling applications.
The widespread use of thermoelectric converters for vehicular waste heat recovery would lead to a 10% improvement in fuel efficiency, translating to a fuel savings of $150 per year for every automobile, as well as decreased CO2 emissions.
Improved cooling of microelectronic devices would result in greater operational efficiency and reliability of integrated circuits, which are the major products of the $43B U.S. semiconductor industry.
Customers for thermoelectric materials and devices include the automotive and consumer products industries, the military, NASA, and the energy sector.