Due to the brittle nature of most materials used in microelectronic devices and microelectromechanical systems (MEMS), stress-induced fracture is the main factor determining device yield and reliability. On the other hand, the microelectronics industry is increasingly taking advantage of strain-engineered materials in order to improve carrier mobility. Exposed to mechanical stress, semiconductor materials such as Si, Ge and GaAs may undergo a phase transformation or sequences of transformations to different crystallographic structures, that have novel electrical, mechanical, chemical or optical properties compared to the pristine structure, giving them fundamental as well as technological significance. As a consequence, prediction on state and distribution of strain/stress in semiconductor materials, particularly Si, has become crucial for the evaluation of performance and reliability of devices and structures made of these materials.
Instrumented indentation testing (IIT) is a widely used technique to study the response of materials to mechanical stress at small scales and thus has been exploited in particular as a model for processes such as deformation and fracture. Raman spectroscopy has become a versatile tool enabling the determination of the kinetics and physics involved in the mechanical deformation of materials at the crystallographic and molecular level (e.g. strain build-up in crystal lattices, phase transformations, and changes in crystallinity). The utility of IIT and Raman spectroscopy has led researchers at NIST to explore the combination of these methods for in situ measurements, Raman-spectroscopy enhanced IIT, and to develop an indentation device that is coupled with a Raman microscope to conduct spectroscopic and optical analysis (probing and mapping) of mechanically strained regions under contact loading.
In this project, Raman-spectroscopy-enhanced IIT is employed to study the effect of extrinsic and intrinsic parameters (such as applied hydrostatic pressures and deviatoric strains, crystallographic orientation of the material) on the generation and evolution of strain fields and the resulting mechanical behavior of semiconductor materials, in particular Si. The experimental findings will be compared to relevant simulations and contact models on strain distribution and crack formation, thus aiding in the understanding of the complex crystallographic dependency of MEMS reliability.
In conventional indentation experiments on Si, the structure and phase of the material is probed only after the completion of the indentation test (ex situ), which leaves the exact path of transformation to conjecture, as the presence of intermediate phases cannot be directly observed. Raman-spectroscopy-enhanced IIT gives not only the opportunity to pinpoint to the onset of phase transformation and identify generated phase but also to determine the strain dependency of vibrational modes of phases, thus providing material parameters essential for computational simulations. Further, the mapping capability of this set-up enables observations on the correlation between strain field and phase distributions which will be extremely helpful in evaluating and refining existing theoretical models crucial also for computational studies in this field.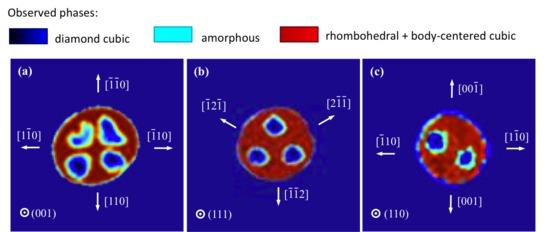 Phase distribution maps for single-crystal Si surfaces indented perpendicular to (a) (001), (b) (111), and (c) (110) planes. Scan size is 5 µm x 5 µm.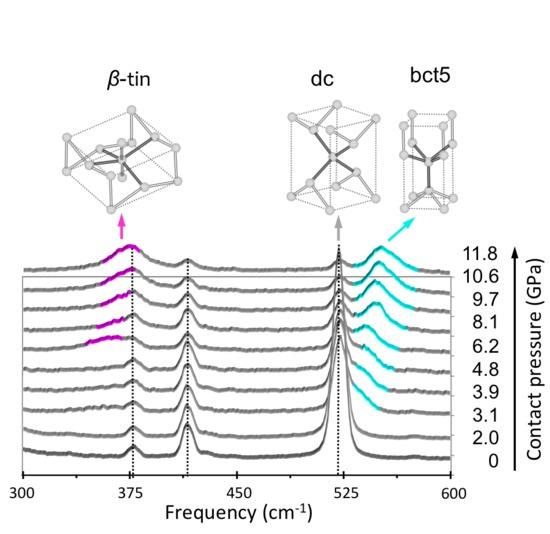 Phase transformations of Si from the initial diamond cubic (dc) structure to β-tin and bct 5 phases observed during mechanical loading.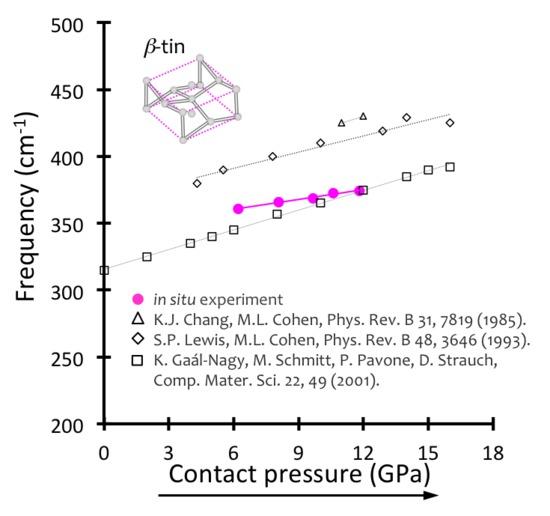 Raman shift as function of contact pressure of the transverse optical (TO) mode of the β–tin phase. Comparison between observation made in in situ experiments at NIST and with simulation studies found in literature.