This year we demonstrated the first example of void-free trench filling with ferromagnetic materials. Feature filling involves a new mechanism of superconformal growth that uses a single inhibitor whose consumption during deposition gives rise to positive feedback. Coupling of the non-linear dynamics with the non-planar substrate geometry gives rise to void-free nickel deposition in the recessed surface features as shown in the cross section TEM images given below. Two types of molecules have been shown to yield this effect; cationic Nbearing polymers and more recently certain benzimidazole derivatives. The latter provide feature filling dynamics that offer seamless integration with conventional Damascene processing and thereby the prospect of introducing ferromagnetic materials into 3-D metallization for ULSICMOS and MEMS applications.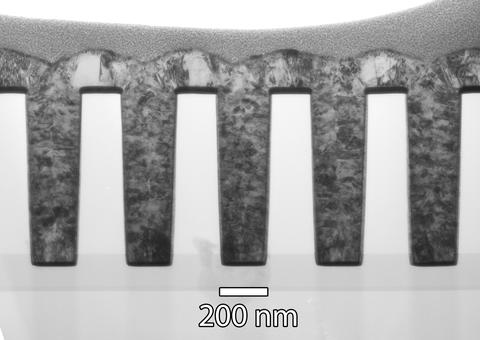 Measurements developed for upd processes of alloy deposition have received significant attention in the past year. Practical interest in the production of Pt-transition metal alloys for use as either hard magnetic materials for memory applications and /or as potential fuel cell electrocatalyst has motivated much of this work. The Pt-Cu system has been examined as a model upd-codeposition system due to the absence of parasitic reactions. As shown below, co-deposition of Cu with Pt occurs at potentials well positive of that required to deposit pure Cu. The figure also demonstrates the use of in situ quartz crystal gravimetry for the determination of alloy composition along with a direct comparison to post deposition ex-situ methods.
 
The upd process has also been applied to Pt-Ni and Pt-Co alloys and preliminary studies indicate that these alloy films are more catalytic than pure Pt for the oxygen reduction reaction; the latter being a central impediment to improved fuel cell performance.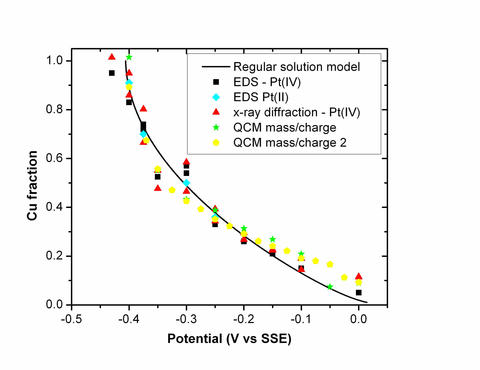 In order to gain a deeper insight into upd and molecular adsorption processes relevant to a wide range of electrochemical processing issues, a variety of in situ scanning tunneling microscope (STM), atomic force microscope (AFM), stress and gravimetric measurements are underway.
 
MML has recently constructed an optical bench for in situ measurement of surface stress during electrochemical processing using the wafer curvature method. Forces on the order of 0.008 N/m (23 km radius of curvature) can be resolved, sufficient to study the adsorption of upd and molecular monolayers. This powerful method is capable of monitoring the surface stress associated with reversible upd reactions such as Pb onto the (111)-textured Au surface as shown below.
The stress transient shows four regimes of behavior from ClO4- desorption, Pb-Au bond formation, stress relaxation due to hcp-Pb island coalescence, and electrocompression of the monolayer at potentials just positive of bulk Pb deposition. Interestingly, these measurements show that the complete Pb monolayer behaves as a free-standing elastic film where the stress - strain proportionality has a value equal to the biaxial modulus for Pb (111) in the bulk. Similar work has examined the upd of Bi on Au. Further work is underway exploring these timely and exciting issues.