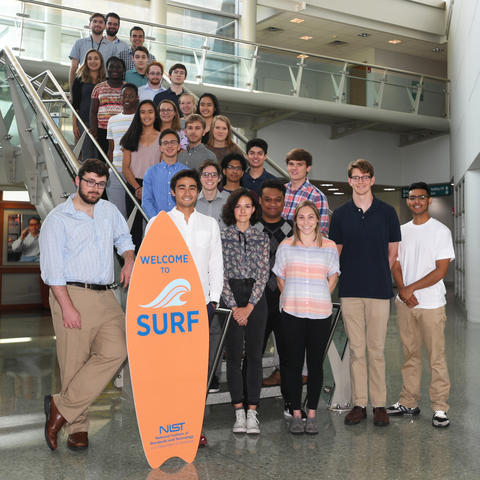 The Physical Measurement Laboratory (PML) at the National Institute of Standards and Technology (NIST) encourages undergraduate students to apply to its Summer Undergraduate Research Fellowship (SURF) program.
SURFing the Physical Measurement Laboratory of the National Institute of Standards and Technology is a partnership with American colleges and universities, stimulating outstanding science and engineering students to pursue scientific careers by exposing them to the world-class research in the NIST Physical Measurement Laboratory, and strengthening undergraduate physics curricula by forming the basis for ongoing collaborations.
Research areas in PML
See PML's "What we do" page.
Student Eligibility Criteria
Must be enrolled as an undergraduate at a U.S. university or college with a scientific major.
Intend to pursue a graduate degree (M.S. or Ph.D.) in engineering, physical science, or information technology.
GPA of 3.0/4.0, or better.
Must be a U. S. citizen or permanent resident.
Two letters of recommendation into the program by physics, chemistry or engineering professors/department chairs, student transcript, and letter of intent/personal statement.
Plan of Operation
SURFers work directly with NIST Research Advisors.
SURFers participate in weekly seminar program, during which Fellows and Advisors present their research projects; SURFers also participate in extramural group activities intended to enrich the fellowship experience.
Fellows are encouraged to present their research results at National Meetings.
SURF Program Quick Facts
Application Deadline: February 1, 2023
11-week appointment scheduled May 22, 2023 to August 3, 2023. There are a limited number of 9-week appointments available June 5, 2023 to August 3, 2023. Students are appointed as guest researchers and not federal employees.
In 2023, fellowships include a $5,400 (9 weeks) or $6,600 (11 weeks) stipend.
In 2023, housing includes a $4,500 allowance for on site projects (11 weeks) or $3,275 (9 weeks).
Applicants must apply to announcement number 586814400 at https://www.usajobs.gov/ to be considered for participation in the program. To apply for opportunities on USAJOBS, all applicants are required to have a profile. For applicants who need assistance with creating a profile, please visit https://www.login.gov/help/creating-an-account/how-to-create-an-account/.
Read more about the application or call Brandi Toliver at (301) 975-2371 if you need further information.