There is a current effort to transition our current hydrocarbon based economy to one based on hydrogen. This would allow for the reduction of carbon dioxide emissions (CO
2
) that are associated with global warming. Hydrogen is also desired because it can be synthesized by electrolysis or other methods thereby allowing the United States to achieve greater independence from foreign energy sources. The NIST Neutron Imaging Facility is part of an organized effort at NIST to support our national mission to move to a hydrogen based economy. One of the key technologies in this effort is the hydrogen fuel cell.
Hydrogen Storage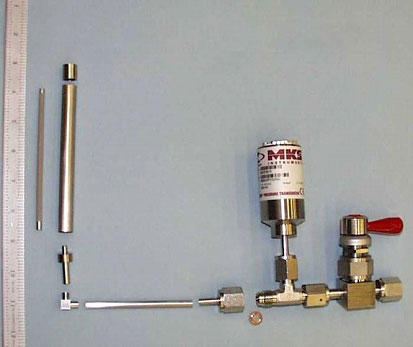 Ultimately if a fuel cell vehicle is to function efficiently it must have an efficient means of storing and delivering hydrogen. End users of hydrogen will wish to charge the hydrogen storage system of a vehicle quickly and efficiently as well as recover hydrogen from the system for use in the fuel cell power plant on the vehicle. Neutrons are envisioned to play an important role in the development of the engineered systems used to provide hydrogen storage onboard vehicles. To illustrate the potential of neutrons for analyzing hydrogen a storage device a metal hydride storage bed was imaged here in the figure.
This movie has three sections: the top shows the hydrogen charging the storage device where the non-hydrogenous components are removed; the middle is the storage device without hydrogen; and finally the bottom is the colorized image of the storage device and hydrogen during the charge.
>>back to NIF Facility