Back to NIST Manufacturing Overview>>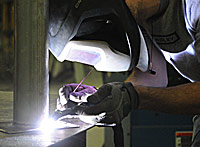 photo by Kristen Dill
MEP works with small and mid-size U.S. manufacturers to help them create and retain jobs, increase profits, and save time and money. The nationwide network provides a variety of services from innovation strategies to process improvements to green manufacturing. MEP also works with partners at the state and federal levels on programs that put manufacturers in position to draw new customers, expand into new markets, and create new products.
Since the MEP began in 1989 as a three-center pilot program, the network has responded to more than 460,000 requests for assistance. In fiscal year 2011 alone, MEP centers provided advice and services to almost 34,000 manufacturers. Here are few recent examples of how timely MEP support can make a positive difference for smaller manufacturing companies. [MEP: Helping Smaller Manufacturers Compete, Innovate, and Grow]
As a public/private partnership, MEP delivers a high return on investment to taxpayers. For every one dollar of federal investment, the MEP generates $29 in new sales growth. This translates into $3.6 billion in new sales annually. For every $2,067 of federal investment, MEP creates or retains one manufacturing job. In 2011, that translated into almost 60,500 U.S. jobs that were created or retained. (Download the latest MEP impact assessment [4-page PDF)]: http://www.nist.gov/mep/upload/MEP-PARTNERING-IMPACTS-2011-v2.pdf)
FY 2010* MEP Client Impacts as a Direct Result of MEP Activities

New Sales
Retained Sales

$3.6 billion
$4.6 billion

---

Total

$8.2 billion


Cost Savings
New Client Investments


$1.3 billion
$1.9 billion
Jobs Created
Jobs Retained
19,170
41,327

 

*Independent follow-up of clients with projects completed in FY2010. Of the 9,952 clients selected to be surveyed, 7,658 completed the survey in FY2011. Measures are a conservative snapshot of benefits. Recurring or cumulative benefits may be larger.
NIST Role. With its small staff of managers, manufacturing experts, planners, and economists, NIST's MEP headquarters works to integrate the network of centers, linking the centers to shared resources and solutions, and developing strategies for delivering new or modified services that will help smaller manufacturers respond effectively to changing conditions and new competitive challenges.
Through NIST's collaborative leadership style, MEP leverages over $100 million of federal investment into a nearly $300 million program by partnering with state and local governments and the private sector to provide a wealth of expertise and resources to manufacturers.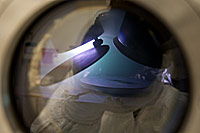 photo by Kristen Dill
Next-Generation Strategy. MEP has identified key strategic imperatives that respond to the challenges of globalization, the growing importance of innovation (in products, processes, services, and business organization), and sustainability. In its next-generation strategy, MEP has developed a framework of five critical areas that will be priorities for network services and partnerships:
Continuous improvement, which is the foundation for raising competitive performance;
Technology acceleration, with the aim of leveraging technology to accelerate business growth;
Sustainability, so that U.S. manufacturers can balance economic and environmental challenges; 
Supplier development, so that small U.S. manufacturers can thrive in supply chains that are becoming more global, more exclusive, and more competitive; and
Workforce, with a focus on the worker skills and knowledge needed to optimize production and business performance.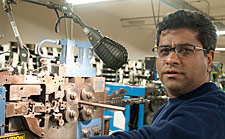 photo by Kristen Dill

Guided by these strategic objectives, MEP and its partners have launched several new initiatives and programs, including:
The National Innovation Marketplace—connects manufacturers to technology and business opportunities resulting in new markets and new products necessary for success in the global marketplace.
ExporTech—helps companies enter new foreign markets or increase exports to existing ones.
Supplier Scouting—develops approaches to help smaller manufacturers to maintain and expand positions in supply chains serving industrial customers and federal agencies, including the Department of Defense and the Department of Energy.
Successful scouting efforts for DOD and DOE encouraged the Department of Transportation (DOT) to form a partnership to leverage the nationwide MEP network to cultivate a domestic supply base to support next generation rail transportation in the U.S. The focus of the partnership is to attract and identify U.S. companies that can manufacture components needed for the next generation rail system. DOT will introduce the next generation rail procurement opportunities in 2012 and has set the goal of 100 percent domestic content in the manufacture of next-generation rail equipment. 
Technology Scouting—develops tools and services that help manufacturers access and pull technologies from government laboratories, universities, and private sector sources.

To learn more about MEP, go to its web site: http://www.nist.gov/mep/
Or link to the MEP Center in your state: http://patapsco.nist.gov/mep/centers-near-you/index.htm
See also:
Sidebars: