The Forensic Science Program within NIST's Office of Special Programs routinely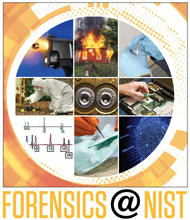 hosts and supports forensic science events in cooperation with other NIST and forensic science community groups. These events bring together scientists, researchers, practitioners, industry representatives, and members of the criminal justice community to address the pressing needs of the forensic science community.
Past Events:
These event pages offer the final agendas, presentations, abstracts, registration lists, and videos of the completed events. Videos are only available if the event was previously distributed via live webcast.
Emerging Trends in Synthetic Drugs Workshop, April 30 - May 1, 2013
DNA Analyst Training on Mixture Interpretation, April 12, 2013
ANSI/NIST-ITL Standard Workshop 2013, January 28-30, 2013
Forensics@NIST 2012, November 28 – 30, 2012
Measurement Science and Standards in Forensic Firearms Analysis, July 10 – 11, 2012