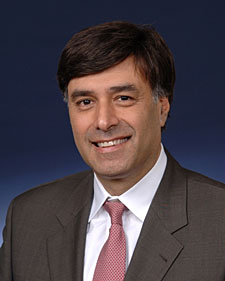 (Term expires March 31, 2013)
Shaygan Kheradpir, Ph.D., is chief operating officer of Barclays Global Retail Bank (GRB). He is responsible for GRB's technology and core operational functions across the 21 markets in which it operates.
From January 2007 through December 2010, Kheradpir served as the executive vice president and chief information & technical officers for Verizon Communications where he was responsible for the technology initiatives of all Verizon's business units. Prior to this position, Kheradpir was senior vice president and chief information officer for Verizon Telecom, with oversight of all information technology initiatives for the company's wireline communications unit. Kheradpir led technology development and innovation for key Verizon initiatives, including having developed and implemented the products and systems for Verizon's all-fiber network -- FiOS.
Kheradpir began his communications career with GTE in 1987. In 1994 he became vice president - GTE Labs, where he directed the company's Software Systems Lab, and later directed the information technology initiatives for the company's enterprise-wide systems and eBusiness units.
Kheradpir is a member of the Cornell University Engineering Council, was named to the CIO Magazine's Hall of Fame, was an adjunct professor of electrical engineering at Northeastern University, and holds several patents.
Kheradpir earned a bachelor's, master's and doctorate degree in electrical engineering from Cornell University.