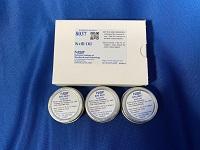 What: RM 8037 is a reference material that consists of oil made from Antarctic krill. Each unit of RM 8037 contains three tins, each with approximately 4.5 mL of krill oil.

Why:  Krill oil contains high levels of omega-3 fatty acids, including DHA and EPA, that exist as phospholipids, and have many potential health benefits. In addition, phospholipids that provide a unique challenge to fatty acid measurements that often focus on neutral lipids like triglycerides.
Who: Analytical laboratories that analyze phospholipid-rich dietary supplements for fatty acid content would use the reference material to validate methods.
How:  Laboratories should use the reference material with their own fatty acid measurements to evaluate method performance.