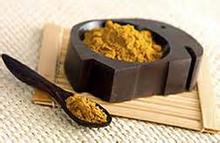 What: SRM 3299 is a ground turmeric rhizome powder value assigned for curcuminoids and toxic elements.  The SRM consists of five packets of the material each containing 3 g of turmeric rhizome.

Why:  Turmeric products have been used to alleviate symptoms of heartburn, stomach ulcers, gallstones, inflammation, and cancer.  Studies on the active chemicals in turmeric and their effects on human cells are underway to understand how turmeric might be used for health benefits.
Who: Laboratories needing a means for demonstrating method validity and accuracy when analyzing turmeric dietary supplements to generate supplement labels will want to use SRM 3299.
How:  This SRM can be used for validating methods for the determination of elements and curcuminoids in turmeric rhizome and similar matrices, and for qualifying in-house control materials