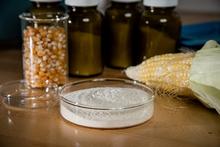 What:  Mycotoxins are produced by some types of fungus that can grow on agricultural products during farming and storage when the temperature and humidity conditions are just right.  When ingested by people or animals, these toxins can cause various degrees of illness.  This SRM was prepared from various corns naturally contaminated with many mycotoxins, and each unit contains one bottle of blank corn (containing very low levels of two mycotoxins) and one bottle of incurred corn (containing natural, e.g., not spiked, levels of 14 mycotoxins near the US enforcement levels). 
Why:  This SRM is the first incurred multi-mycotoxin reference material, and will decrease cost and increase sample throughput for laboratories required to screen and quantify multiple mycotoxin classes.  Existing RMs (from other RM producers) contain only a single mycotoxin or mycotoxin class.
Who:  This SRM will be used by regulators, testing laboratories, food and feed manufacturers, and researchers in academia and government.
How: This SRM will be used in the validation of multi-mycotoxin analytical methods for corn and in quality control for related sample analysis, to ensure that an entire measurement process is working as expected