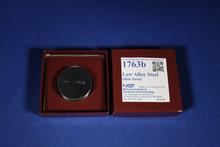 What: SRM 1763b is the third version of this custom composition, low alloy steel, first issued in 1989. 
Why: The SRM 1761 thru 1768 series compositions underpin the production of low alloy steels worldwide. Applications for low-alloy steels range from military vehicles, ships, earthmoving and construction equipment to pipelines, pressure vessels, oil drilling platforms, and structural steel. Steel alloy production is growing strongly in the USA and worldwide.
Who: SRM 1763b is used in the laboratories of steel manufacturing plants, manufacturers who use steel to make an incredible range of products, and independent laboratories, who support smaller business that don't have in-house analysis capabilities.
How: SRM 1763b is intended for use in validation of test methods for elemental analysis of the wide range of low alloy steel compositions. It can be used to validate value assignment of in house reference materials used for routine quality assurance and statistical control of test methods. It is most commonly used with spark optical emission spectrometry and X-ray fluorescence spectrometry.