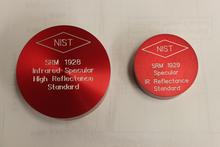 What: SRMs 1928 and 1929 are new specular (mirror-like) reflectance standards that are calibrated over a broad spectral range from 1 µm to 18 µm (1,000 nm to 18,000 nm 540 cm-1 to 10,000 cm-1). They consist of a polished-copper disks completely coated with a buffer layer of nickel and an optically thick outer layer of gold. SRM 1928 is 50.8 mm (2 in) in diameter x 9 mm thick; SRM 1929 is 25.4 mm (1 in) in diameter x 3 mm thick.

Why: SRM 1928 & 1929 are essential to any spectral measurements of the of reflectance non- or low-scattering materials including mirrors, windows, filters, specular paints, or polished surfaces.
 
Who: Infrared reflectance data are required for an extremely wide variety of applications and employed throughout industrial, academic and government laboratories. The applications include those involved with energy, optics and optical instrumentation, temperature measurement and thermal modeling, remote sensing, etc.
 
How: SRM 1928 & 1929 are used as references for calibration of the instrumentation used for measurement, typically through substitution or relative comparison of the sample of interest and the SRM, depending on the type of measurement device employed. The sample's absolute reflectance is obtained through multiplication of the SRM's calibrated reflectance values with the measured ratio of signals obtained from the sample and the SRM.