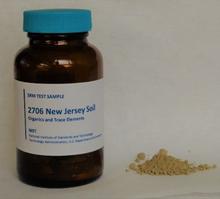 What: SRM 2706 is a new Standard Reference Material consisting of a natural agricultural soil from the North Eastern United States, augmented with selected target constituents, including trace elements, rare earth elements, polycyclic aromatic hydrocarbons (PAH), chlorinated dibenzo-p-dioxin congeners, and chlorinated dibenzofuran congeners that are of interest to the environmental community.
Why: Existing soil SRMs are predominantly derived from western locations in the United States and are certified for inorganic constituents only. To diversify the inventory of soil SRMs, this new material has assigned values for both inorganic and organic constituents and represents a geochemistry from the Eastern United States, where soils are generally more acidic and have higher levels of organic matter.  
Who:   Users of this SRM are environmental measurement laboratories using United States Environmental Protection Agency (EPA) analytical methods, as well as government, academic research, and soil testing laboratories that have an interest in soil contaminant remediation, and soil chemical composition.
How: This and similar soil reference materials provide a mechanism to validate analytical methods, assist with soil research, and the provision of quality assurance for environmental compliance testing.