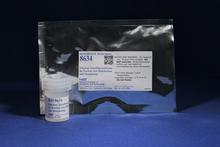 What: RM 8634 consists of an aqueous particle suspension of abraded ethylene-tetrafluoroethylene (ETFE) particles covering a size range from 1 µm to 30 µm, with characterized particle size distribution (PSD) and morphology. The ETFE particles closely mimic the optical appearance of proteinaceous particles that occur in protein-based biotherapeutics.
Why: This RM provides a means of evaluating the response of optical particle counters to irregular and translucent particles, which are very dissimilar to commonly used polystyrene sphere standards. Limiting the number of particles is important to assure the quality of commercial drug products.
Who: This RM will be useful for pharmaceutical companies, commercial testing laboratories and instrument vendors.
How: Measurements of the RM by a particle counting instrument will produce a reported PSD. Comparison of the instrument-reported PSD and the NIST-assigned PSD provides a quantitative measurement of the diameter bias of the instrument. For imaging instruments, morphology parameters may be assessed similarly.