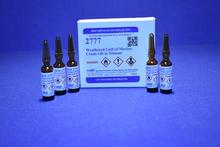 What: SRM 2777 is composed of a naturally weathered crude oil extracted from oil-soaked sand that was collected from a beach that was impacted by the Deepwater Horizon oil spill. The weathered oil was first diluted in toluene and then value assigned (both certified and reference mass fractions) for select polycyclic aromatic hydrocarbons (PAHs)
Why: Studying the environmental impact years after an oil spill can be challenging since the composition of weathered oil is considerably different than the source oil and even from artificially weathered oil prepared in a laboratory.  PAHs are of interest in weathered crude oils since these contaminants can be toxic to humans and wildlife.  A certified reference material consisting of a field-weathered oil with certified values of PAHs is a valuable tool to improve the quality of chemical data from oil spill studies.
Who:: Users of this SRM are environmental research and testing laboratories, government laboratories, academic researchers, and instrument manufacturers.

How: This SRM is intended for the use in evaluating analytical methods for determining PAHs in weathered crude oil matrices.