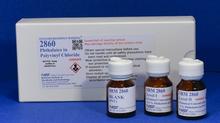 What:   SRM 2860 is composed of a suite of three polyvinyl chloride (PVC) materials at 0%, 0.1%, and 2% mass fractions of six phthalates.
Why:  Although the toxicity of phthalates to humans is under study, there are concerns that phthalates could affect human development and reproduction, so SRM 2860 will promote the use of safer materials in the manufacture of children's toys by supporting the improvement of analytical methods for phthalates in PVC.

Who: Prospective customers of this SRM would include laboratories who measure phthalate esters in PVC products, including those supporting manufacturing and regulations.
How:  SRM 2860 is intended primarily for use in validating methods for determining six phthalate esters in polyvinyl chloride (PVC).