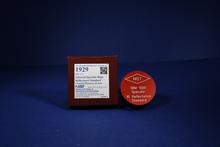 What: SRM 1929 is a new reflectance standard consisting of a gold- coated copper disk with one specular (mirror-like) reflecting surface.
Why: There is an ever-increasing need for higher accuracy spectral infrared data on materials, since infrared properties determine how a material interacts thermally with its environment.
Who:   Laboratories   that   employ   infrared   spectral   measurements include those belonging to government labs at NASA, USGS, NOAA, NREL, and the Dept. of Defense, as well as in a wide variety of industries including the optics, chemical, petroleum, semiconductor, and metals processing industries, those involved in remote sensing and environmental monitoring, energy usage and conservation, as well as aerospace, defense and security.
How: This and similar standards provide a traceability path to national standards and represent a key element to improving the quality of measurement data.