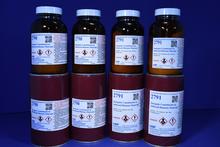 What:  RM  2790  is  composed  of  ground  wood  pellet  fuel,  value assigned for 29 elements plus ash. SRM 2791 is composed of ground softwood  bedding  pellets,  value  assigned  for  31 elements  plus ash. Both SRMs consist of two bottles each containing 30 g of material.
Why: These SRMs will be used to support biomass energy standards and   regulations,   biomass  technology   developments,   international trade, and environmental impact assessments.
Who: It is expected that wood pulp manufacturers, officials from US and state regulatory agencies and researchers in the biomass industry.
How:  These  SRMs  can  be  used  for  validating  methods  for  the  determination  of  elements and ash in   biomass materials and similar matrices, and for qualifying in-house control materials.