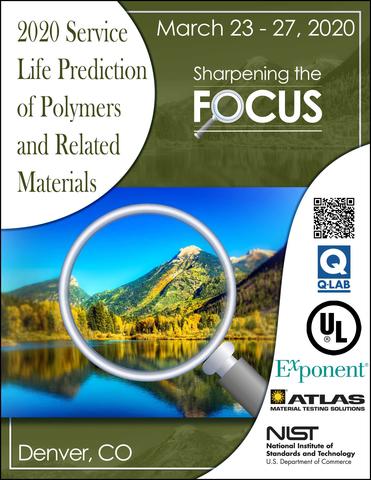 Welcome to the website for the 2020 Service Life Prediction Meeting in Denver, CO March 23-27, 2020.
Service Life Prediction of Polymers and Related Materials. 2020: Sharpening the Focus.
---
This 8th conference on Service Life Prediction will establish the current state-of-art methodologies, procedures and techniques.  Together we will share exciting new technical advances in Service Life Prediction.  We will update the roadmap for future technical, standards, and commercial needs for polymer containing materials exposed to outdoor weathering. This conference builds on the success of the previous on Service Life Prediction meetings held in 2018, 2016, 2013, 2006, 2004, 1999, and 1997. New to this conference will be a one day short course. This short course is designed to give a professional new to durability testing an extensive background knowledge.   After attending this workshop, the participant will understand the current state of the art for durability testing of polymeric materials.  Please register for the short course, the meeting or both using the links provided. 
All areas of the service life prediction will be addressed including:
Discussion of Measuring Solar Radiation

Advances in Field Exposures

Advances in Laboratory Exposures

Challenges Related to Specific Applications (PV, Nuclear, Wind, Construction)

Characterization of Polymer Properties

Correlation between Laboratory and Field Exposure

Effect of Coating Weathering on Substrate Corrosion

How to Understand Moisture in Service Life Prediction

Industrial Needs for Service Life Prediction

New Material Challenges

Progress in Validating Service Life Prediction Models

Reliability and Durability of Polymeric and Nanomaterials

Standards Needs