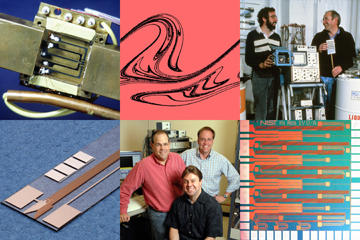 The development of voltage standards based on superconductive tunnel junctions began with the 1962 prediction by Brian Josephson that the average voltage across a junction subjected to microwaves of frequency ƒ may be quantized in units of 2eƒ/h, where e and h are the elementary charge and Planck's constant. NIST vigorously pursued the realization of a Josephson voltage standard, and in 1972 the U.S. practical volt was redefined using two junctions connected in series and driven at 9 GHz to produce a quantized voltage near 10 mV. The present calibration workhorse, perfected in the 1980's, uses a series array of 20,000 under-damped junctions driven at around 80 GHz to produce quantized voltages in excess of 10 V and can be quickly programmed to produce any desired voltage. Finally, an entirely new technique, based on pulsed operation, has been adopted to create highly accurate ac waveforms.
Anyone outside NIST wishing to attend must be sponsored by a NIST employee and receive a visitor badge.

For more information, contact Stephanie Shaw at 301-975-2667.
Colloquia are videotaped and available in the NIST Research Library.