The Material Measurement Laboratory (MML) and the NIST Center for Neutron Research (NCNR) encourage undergraduate STEM majors to participate in the Summer Undergraduate Research Fellowship (SURF) program at the NIST laboratories in Gaithersburg, MD. The MML/NCNR program is specifically designed to provide hands-on research experience in three topic areas.  These are 
Chemical/Biochemical Sciences,
Materials Science, and
Computational Materials Science.
---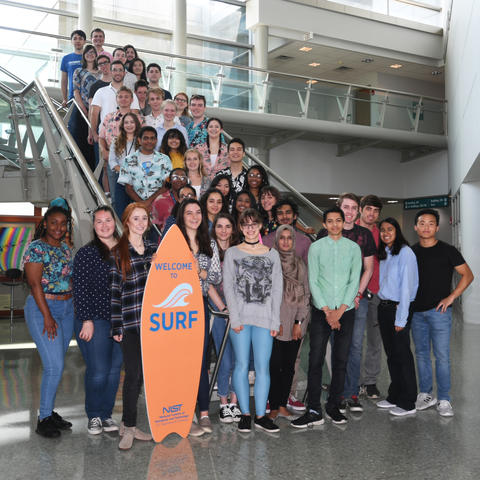 Chemical/Biochemical Sciences, Materials Science, or Computational Materials Science
Students applying to the MML/NCNR SURF program are offered three programmatic choices: Chemical/Biochemical Sciences, or Materials Science (which includes projects at the NCNR), and Computational Materials Science.
Chemical/Biochemical Sciences:  This concentration addresses the nation's needs for measurements, standards, technology development, and reference data in the areas broadly encompassed by chemistry, biotechnology, and chemical engineering.
Materials Science:  This concentration focuses on synthesis, measurements, and theory of innovative materials and devices.  Note:  This concentration includes projects from the NCNR.  Additionally, a limited number of projects are available at the NCNR for students with interest in nuclear engineering and/or reactor operations.
Computational Materials Science:  This concentration includes the application of modeling, simulation, and computational methods to enhance our understanding of innovative materials and devices.  Note:  This concentration includes projects within the Materials Genome Initiative. 
Projects change every year according to MML/NCNR research needs. Click here to see examples of past SURF student project titles from recent years.
SURF Program in Brief
The NIST SURF Program will have options for either in-person or remote for Summer 2023. Application packages will be submitted directly by the students through USAJOBS (Announcement #: Gaithersburg: SURF-2023, Boulder: SURF-2023). To apply for opportunities on USAJOBS, all applicants are required to have a profile (account creation details). When applying, students should indicate their first- and second-choice programs from among the possible choices. Applications may be considered by any of the programs, with preference given to the student's indicated first choice.
Complete information about the program and application process is available on the NIST/SURF home page.
Other NIST laboratories also participate in the SURF program so be sure to check out their web pages. MML also offers SURF opportunities at the Boulder NIST campus, so check out the NIST SURF Program at the Boulder campus as well.
Application Deadline: February 1, 2023 (11:59 PM (ET)) 
Program Dates: May 22, 2023 - August 3, 2023
Student Eligibility Criteria
Students must be an undergraduate as of the application deadline.
Successful students typically have a GPA of 3.0 (on a 4.0 scale) or better (recommended) and are considering pursuing a scientific graduate degree (MS or PhD)
Students must be U. S. citizens or U.S. Permanent Resident
Students will need two letters of recommendation into the program (e.g. professor/department chair/undergraduate research advisor), a student transcript, and a letter of intent/personal statement.
SURF Student Expectations
SURFers work directly with NIST Research Advisors in ongoing research activities
SURFers attend a SURF seminar series and participate in extramural group activities intended to enrich the fellowship experience
SURFers present their research results at the NIST SURF Colloquium during the last week of the program.
General Overviews of MML & NCNR
Material Measurement Laboratory
MML serves as the national reference laboratory for measurement research, standards, and data in the chemical, biological and material sciences. MML research supports areas of national importance such as:
Advanced Materials (from nanomaterials to structural steels to complex fluids)

Electronics (from semiconductors to organic electronics)

Energy (from characterization and performance of fossil and alternative fuels to next-generation renewable sources of energy)

The Environment (from the measurement of automotive exhaust emissions and other pollutants to assessment of climate change and the health and safety aspects of man-made nanomaterials)

Food Safety and Nutrition (from contaminant monitoring to ensuring the accuracy of nutritional labels)

Health Care (from clinical diagnostics to tissue engineering and more efficient manufacturing of biologic drugs)

Physical Infrastructure (from assessing the country's aging bridges and pipelines to the quality of our drinking water)

Manufacturing (from lightweight alloys for fuel-efficient automobiles to biomanufacturing and data for chemical manufacturing)

Safety, Security and Forensics (from gunshot and explosive residue detection, to ensuring the performance of body armor materials, to DNA-based human identity testing)
The MML conducts research in analytical chemistry, biochemical science, ceramics, chemical and biochemical reference data, materials reliability, metallurgy, polymers, surface and microanalysis science, and thermophysical properties of materials.
Back to top of the page
NIST Center for Neutron Research
The NCNR is a major national user facility and resource for industry, universities, and government agencies with merit-based access made available to the entire U.S. technological community. Neutrons are powerful probes of the structure and dynamics of materials ranging from molecules inserted into membranes mimicking cell walls to protons migrating through fuel cells. The unique properties of neutrons can be exploited by a variety of measurement techniques to provide information not available by other means. They are particularly well suited to investigate all forms of magnetic materials such as those used in computer memory storage and retrieval. Atomic motion, especially that of hydrogen, can be measured and monitored, like that of water during the setting of cement. Residual stresses such as those inside stamped steel automobile parts can be mapped. Neutron-based research covers a broad spectrum of disciplines, including engineering, biology, materials science, chemistry, physics, and computer science. Current experimental and theoretical research is focused on materials such as polymers, metals, ceramics, magnetic materials, porous media, fluids and gels, and biological molecules.
Back to top of the page

Related Links:
Back to top of the page