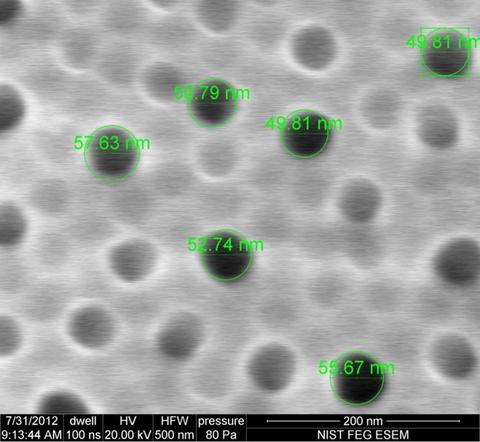 Most proteins cannot be crystallized, so their structure cannot be determined by x-ray diffraction.  The goal of this project is to grow nanopores that are commensurate in size with a specific protein and to confine the proteins in a specific alignment that will allow their structure to be determined using neutron diffraction.  Nanopores are grown using the anodization of aluminum into aluminum oxide.  The proteins are injected into the nanopores in solution.  We are currently studying the physical and chemical factors that influence the thermodynamics of confinement.  The presence of the proteins in the nanopores is established using small-angle neutron scattering and confocal microcopy. 
Facilities
Environmental SEM, Confocal Microscope, NIST Center for Neutron Research
Customers/Contributors/ Collaborators
Hao Shen (NIST Associate)
Graham Spicer (SURF Student)
Major Accomplishments
We can successfully grow thick nanoporous aluminum films at the desired diameter in the range of 20-200nm.  We are developing confocal microscopy to measure the penetration of proteins into the nanopores.