Metrological traceability is crucial for ensuring that measurements made at different times, by different analysts, and in different places are comparable. Metrological traceability is different from chain-of-custody traceability; metrological traceability tracks a series of measurements that have a common origin of reference, rather than how a sample passes through a supply chain or laboratory process.
The SI is an internationally recognized reference system that supports comparability of vital chemical measurements across a broad range of industries and sectors. Results from a series of measurements can be linked to the SI through an unbroken chain of comparisons, i.e., calibrations. At the apex of such a calibration hierarchy are accurate mass determinations of calibrants and purity assessments that realize SI units.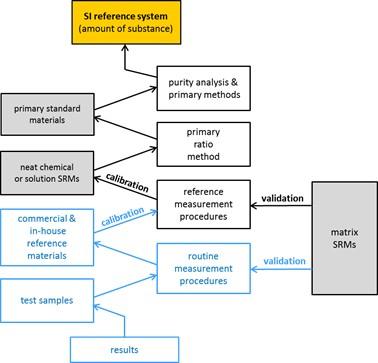 Support and provision of SI traceability is an essential measurement service of the Chemical Science Division (CSD). One of the most important facets of this service is development of SRMs and other primary measurement standards used to calibrate measurement procedures, especially those that facilitate chemical purity determinations and the characterization and establishment of new calibrants. These reference materials include high purity chemicals; primary gas standards and mixtures; inorganic, organic, and pH solutions; and matrix materials designed for use as specialty calibrants.  Such reference materials are used to establish the relationship between the real quantity of a measurand (i.e., the property being measured) and results from the measurement process.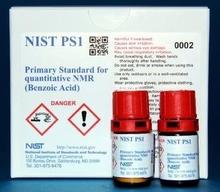 NIST PS1 Primary Standard for Quantitative NMR
Primary Standards for Clinical and Health Assessments