Measured quantities are never known with absolute certainty, and for a measurement result to be meaningful, this incomplete knowledge must be realistically described. A result is based on experimental observations (data) that can be influenced by a multitude of effects on the measurement. The dispersion of data and understanding of these effects tell us something about how well the measured quantity is known through experimentation. Expressing the associated uncertainty is critical for communicating levels of confidence in results and for providing sound, useful measurement services.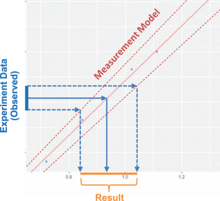 Diligent efforts are made by CSD to ensure that chemical measurement results are reliable representations of the data and expertise used to determine them.  The CSD partners closely with the NIST Statistical Engineering Division [SED; https://www.nist.gov/itl/sed] to achieve this for the measurement services that they provide, including assessment of uncertainty in SRM certified values.
The CSD-SED partnership has also led to development of rigorous approaches to designing experiments and calculating measurement results (including uncertainty) for common procedures used in chemical analysis. These approaches can be automated using the NIST ABACUS Apps (https://abacus.nist.gov), a series of web-based tools, freely and readily accessible by analysts without extensive statistical expertise.
The SED has also developed the NIST Uncertainty Machine, a freely available software for use by analysts to calculate measurement uncertainty of their results based on user-defined measurement models and data.