SRM 2881 -- A Polystyrene Absolute Molecular Mass Distribution Standard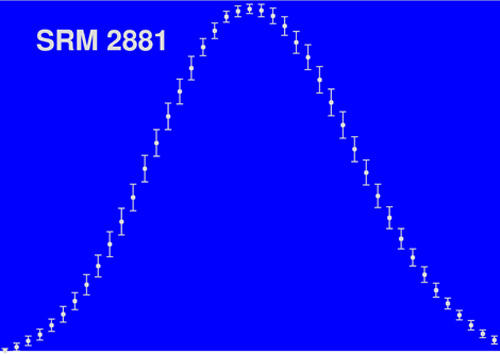 For the last 50 years the US plastics industry has relied on NIST polymer Standard Reference Materials to calibrate their measurement equipment.
Due to limitations in the measurement technology available, all previous NIST SRMs (and those from any supplier, government or commercial) have been certified solely for the average value of the molecular mass distribution. Certification is based on an absolute measurement, that is, one that is not calibrated simply against another standard but depends only on carefully measured physical properties.  The weakness in certifying an average is that it reduces the full distribution to a single number. It has always been known that this leads to a significant loss of important information but was the best that could be done within the limits of existing measurement technology.
By placing uncertainties on each oligomer in the distribution, the SRM 2881 provides a set of closely‐spaced calibration points instead of a single value. This leads to greater measurement precision and accuracy.
SRM 2881 can be used to calibrate any instrument that measures molecular mass distribution. It can be used to study peak broadening in size-exclusion chromatography.  It can also be used to study the instrument response of mass spectrometers.
To purchase SRM 2881 click here.