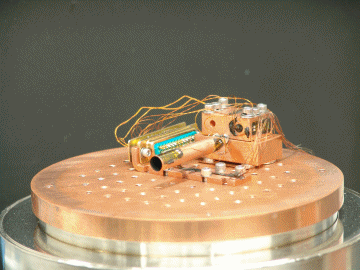 The NIST spectral power responsivity scale is based on cryogenic electrical substitution radiometers (ESRs) , which are considered the highest  accuracy primary standard detectors in optical radiometry. ESRs are absolute thermal detectors based on the equivalence of electrical power and radiant power that can be traced back to electrical SI units and be measured with low uncertainties. In combination with monochromatic light sources, like synchrotron radiation, blackbodies, plasma systems, or lasers, the use of cryogenic ESRs can lead to measurements with relative standard uncertainties below 0.01 % (k=1), depending on the optical power available and the quality of the used light source-monochromator combination.
In the past he Ultraviolet Radiation Group has used the Synchrotron Ultraviolet Radiation Facility SURF III to establish the spectral power responsivity scale in the ultraviolet spectral range from 135 nm to 400 nm on Beamline 4 and in the extreme-ultraviolet spectral range from 7 nm to 35 nm using Beamline 7.
In the future we will be using the new beamline 3 to establish the spectral power responsivity scale from 2 nm to 400 nm with a combined relative standard uncertainty below 1 % (k=1) in the whole spectral range. At the same time we are using a laser-driven plasma source to independently establish the spectral power responsivity scale from 200 nm to 400 nm using the same type of monochromator as in the Ultraviolet Spectral Comparator Facility (UV SCF) to reduce the relative standard uncertainties.