The Industrial Wireless Systems (IWS) Testbed integrates existing and emerging wireless technologies with live physical systems found in factories of all types.  The testbed seeks to merge the physical systems and the radio frequency (RF) environment creating a framework for conducting measurements and test methods that advance the effectiveness, reliability, and security of industrial wireless deployments in factories.  The IWS testbed is indeed a cyberphysical systems testbed as it connects the computing world with the physical world.
The focus of the IWS is to examine the applicability and impacts of existing wireless technologies on factory systems.  As shown in Figure 1, the physical system monitored by sensors connected to wireless communication nodes.  Those sensor signals are routed through an RF Environment Model using an RF channel emulator (RFCE).  The IWS testbed RFCE current supports up to eight (8) physical wireless nodes.  The RFCE creates the electromagnetic properties of the factory.  A controller may then act on sensor signals and send control commands to actuators within the factory.  Through this plant-RF-controller interaction, we study the impacts of wireless on the factory operation.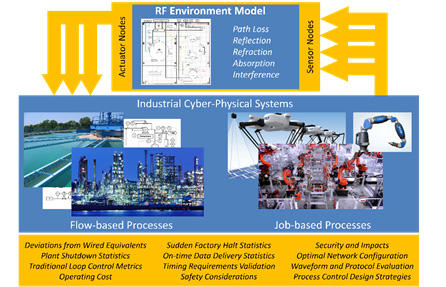 Figure 1.  Testbed Concept of Operation
Construction of the IWS testbed is currently underway.  Shown in Figure 2 are two researchers conducting an experiment on the impacts of wireless technologies on a chemical reactor.  Other systems envisioned include a linear axis force feedback system, a multi-axis gantry system, and a precisely timed sensor actuation system.  The IWS testbed is useful in measuring how information loss and delay affect the performance and control physical characteristics such as position, speed, force, temperature, pressure, and safety.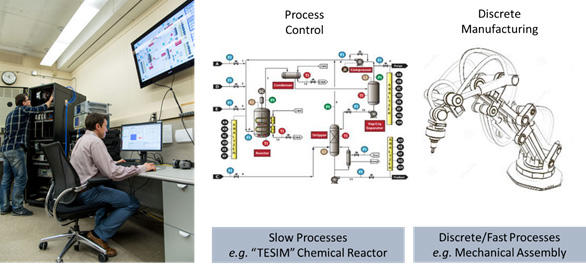 Figure 2.  Industrial Wireless Testbed: Experimenting with a Chemical Factory Scenario