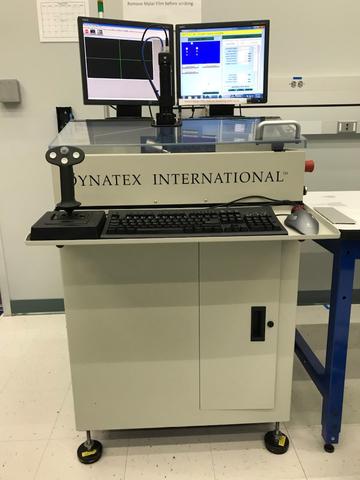 The NanoFab now has a new Dynatex GSX scribe and break tool. A scribe and break tool is used to dry dice materials for critical applications such as laser diodes, laser bars, Si-Photonics III-IV chips, optoelectronic devices, and MEMs and biomedical devices with sensitive structures and coatings.
The scribe and break systems work by creating a scribe line in the material where the break is desired. The scribe line acts as a stress concentration, so that when a force is applied to the wafer it breaks along the scribe line. The scribe and break method offers several advantages over a dicing saw for the applications listed above. The scribe and break method is a dry technique, no coolant is used which may damage circuits and sensitive devices. The scribe and break technique results in a high-quality mirror finish on the edge of a sample because it breaks along a crystal lattice plane. The width of the scribe line is less than 5 micrometers, compared with the 25-micrometer-wide cut by the narrowest saw blade.
The GSX performs high precision diamond scribe and break dry dicing for materials such as Indium Phosphide, Gallium Arsenide, Gallium Nitride, and silicon in partial wafer pieces and substrate sizes up to 100 mm. It can be operated in an interactive or semi-automatic mode for operator controlled processing.