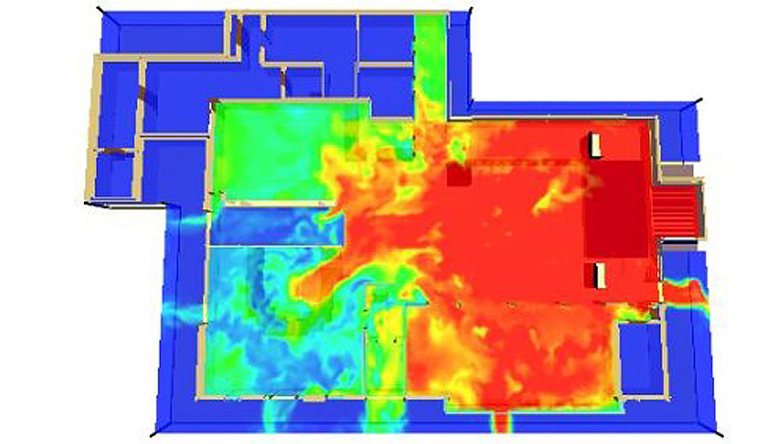 NIST develops computational tools to predict fire spread and growth in commercial buildings. Tools developed by NIST help building designers to develop lower-cost approaches to complying with existing fire performance standards. The modeling expertise required to develop these tools leverages decades of work in studies of real-world disasters, partnerships with first responders, and experimental burns that cultivated unique-in-the-world fire expertise.
Using NIST computational tools, architects and engineers virtually construct the building (including locations and sizes of rooms, sprinklers and stairways) according to existing building codes and standards. The users then simulate defined fire scenarios and record how smoke, fire gases and temperature change throughout the building. The model also simulates building evacuation—how people move throughout the building as the fire grows.
With this baseline, the architects repeat these fire scenarios, making changes to the building construction design to lower cost and/or add interesting architectural features while maintaining or improving fire performance.
Questions? Contact inquiries [at] nist.gov (subject: Industry%20Impact%3A%20Consumer%20Bldg%20Fire%20Protection) (NIST Inquiries).