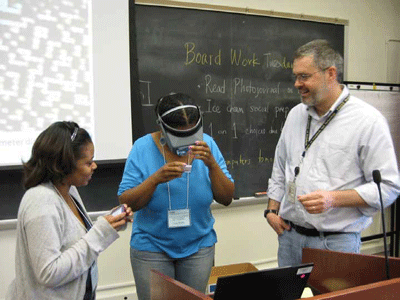 Testimonials - NIST Summer Institute 2012
"This is a remarkable experience and I can't really put into words how much fun I am having. I have learned more this first week, than in the two years I have taught. I can't wait to use this new-found information in my class and am excited to share. Everyone we have met is spectacular and an inspiration."
"Best summer yet of all various seminars I have attended. Well organized, and on time and differentiated. Planning is "spot on" – variety of lecture to hands-on to observation in great proportion. Very relevant activities to practical application in the classroom."
"This program has opened up so many doors and has rejuvenated my passion and love of teaching science. I hope to be able to get some of the scientists to visit my classroom. I would also love the opportunity to come back and visit and learn more from NIST. All of the materials/lesson/activities/knowledge will be put to good use in my classroom."
"Amazing experience with great teachers and scientists. The leaders were good at keeping everyone on task and had a good sense of the group's pulse. The activities were so informative. I'm very excited to get back to school, tell my kids about NIST, and share my new knowledge, skills, and activities with the school community. THANK YOU!"
"This program was excellent! It was fascinating to see the different technology and hear the scientist's presentations about their research. This is a wonderful program that has provided a copious amount of learning opportunities and exposure to educational models! I have especially enjoyed the hands-on labs and toys that I can integrate into my class this year!"
"I have really enjoyed these past two weeks. I feel I have grown, as a teacher, so much. Meeting the scientists, working with them, even if it was such a short time, and touring the institution was a privilege. This is a part of my life I will cherish and remember."
"Attending this institution will benefit my students. My teaching will be affected and I have learned so much. You did a wonderful job putting as this together and it really showed. I will be sending you evidence of how much these two weeks have enhanced my teaching."
"Thank you so much for allowing me the opportunity to attend NIST. With good luck, I will bring some of my students to tour this facility next spring."
"This week has been a roller coaster of surprises and new relationships... it's almost overwhelming. The tools I will be able to bring to my students should help spark them through their journey as life long learners. The stories and experiences that I can bring back to them will most assuredly trigger increased curiosities toward the basics of collecting and interpreting data. That's my job."
"At the end of every school year I tend to question what I do, why I do it, and am I any good at it. So far, half way through this NIST endeavor, I find myself realizing that I am right where I'm supposed to be... doing my best to inspire our country's youth to grow into people like you... people with whom I am proud and honored to know and consider not just professional acquaintances, but new-found friends."
"You truly went over and above the mark. I have participated in a lot of classes over the years, some very outstanding. I have to say that your program stands head and shoulders above even the best! Thank you again for such an enriching experience. Before I left, a colleague suggested that this would be a life-changing event. I am anxious to make this happen. I am leaving for Australia this weekend, and am already anxious to get back so I can start talking to people about NIST."