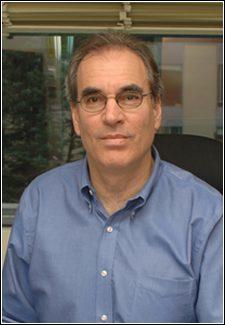 The 1970s energy crisis sparked an interest in Andrew Persily to join the growing number of researchers focusing on energy conservation. He earned a master's and Ph.D. in engineering from Princeton University, where he worked in an interdisciplinary energy and environmental research center.
"After college, I knew I wanted to do something applied, and energy was a big issue at the time," explains Persily. During his last year at Princeton, a division chief from the National Bureau of Standards (NIST's name until 1988) who was attending a conference, told him about what is now known as the NIST National Research Council (NRC) Postdoctoral Research Associateship Program.
"What really sold me on the program was the reputation of my potential advisor," Persily says. Richard Grot had been a junior professor at Princeton and had a great reputation among Persily's colleagues, especially with the lab technicians. "Grot was smart, productive and working on interesting research. As my advisor, he was very supportive. He was always running around doing a million things, and I tagged along."
"Engineers traditionally don't do a lot of postdocs like physicists, chemists and biologists," Persily explains. Nevertheless, he promotes the program whenever he has a chance. "When I meet academic colleagues, one of the first questions I ask is 'do you have any great Ph.D.s? Because if you do, they should consider applying.'"
One research project with Grot left a strong impression on Persily. The research team was investigating why some federal buildings used more energy than expected. A key part of that project was to determine each building's air change rates. These rates reveal how much outside air leaks inside and influences how much energy is required to heat and cool a building.
While installing air sampling tubes for measurements throughout a building, the research team found that the only way to get from one wing to another was through a small area that held hot water pipes. Grot "took off his shirt, and with the tube in his mouth, crawled about 50 meters to the other side so we could make the connections to be able to sample the air on the other side," Persily reminisces. "I decided, this guy is okay. Many people would have sent the postdoc, but Dick was willing to do the dirty work; he did not see himself above anyone else. I liked that."
The building research did more than show Grot's disposition, it provided some of the first measurements of their kind in terms of the thermal performance of commercial building facades. And while energy conservation motivated the original study, the research subsequently evolved into measurements of indoor air pollutants. After his postdoc, Persily remained at NIST and continued his building airflow and indoor air quality research.
Most recently, he and his colleagues focused on indoor carbon dioxide levels generated by people in buildings as an indicator of indoor air quality and ventilation. They developed methods and guidance to measure and interpret indoor carbon dioxide concentrations, which is embodied in ASTM Standard D6245: Standard Guide for Using Indoor Carbon Dioxide Concentrations to Evaluate Indoor Air Quality and Ventilation.
"The goal is to have buildings that are energy efficient and provide healthy, productive and comfortable environments for their occupants," Persily says, adding, "buildings ultimately exist for the people in them."
Today, even as chief of NIST's Energy and Environment Division, he still finds time to continue his research. "I recently worked with a physiologist and human metabolism expert to develop a new method to estimate the carbon dioxide production from people," he says. "She understands the body and I understand the buildings." The paper was published in 2017.
"The NIST NRC program got me going and gave my career traction," Persily explains. As a postdoc, he attended his first conference, wrote his first paper and performed his first field research.
Persily still participates in the NIST NRC Postdoc Program, as he and several researchers in his division serve as advisors. Persily has had five postdocs over the years and is anticipating working with another beginning in January 2018.
"Engineers traditionally don't do a lot of postdocs like physicists, chemists and biologists," he explains. Nevertheless, he promotes the program whenever he has a chance. "When I meet academic colleagues, one of the first questions I ask is 'do you have any great Ph.D.s? Because if you do, they should consider applying.'"
– written by Evelyn Brown