to opt into the pscr newsletter, click here.
Funding Opportunities / Recent Awards / Grant Updates


Calling All First Responders: NIST Needs Your Feedback
NIST recently launched a nationwide usability survey on public safety communication technology and needs input from first responders. The 15-minute survey asks questions about the communication technology first responders currently use, need, and want in the future. If you're a first responder, please help improve PSCR's research by taking this survey!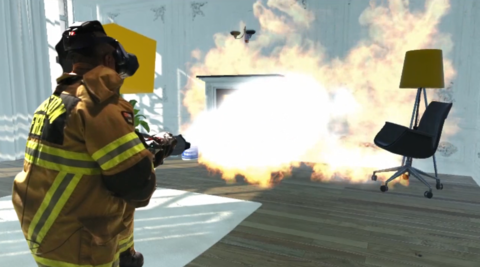 Research Spotlight: UI Grant Creates VR Environments Based on Physical Modeling
A PSCR award recipient, TRACLabs, reports advances made by its partner Diamond Age Technology on building a mixed reality training environment in collaboration with the Houston Fire Department (HFD). During FY2019 Q1, Diamond Age Technology developed a hose nozzle prototype with tracked bail and nozzle head for controlling water flow  and spray pattern. The prototype can be turned through a 120 degree range to adjust the spray pattern. Their mixed reality environment also incorporates other physical assets (e.g., furniture) with a virtual overlay, allowing for simulated fire scenarios using real objects you can touch. HFD training specialists are providing feedback on the environment, fire propagation, and fire suppression. This research will presented at the 2019 Public Safety Broadband Stakeholder Meeting. Preview the demo!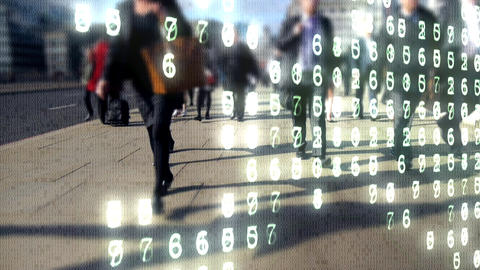 Multi-Phase Prize Challenge Moves Onward
Are you - or is someone you know - a data scientist or mathematician? On March 10, register for the final match of the Differential Privacy Synthetic Data Challenge, which focuses on protecting individual privacy while allowing for public safety data to be used by researchers for analysis. Today, there is no absolute protection that data will not be mis-used, so this research will help advance practical applications and improve privacy protection. Learn more.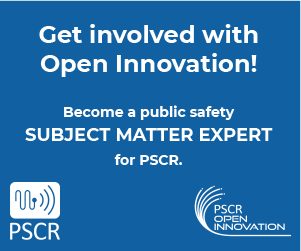 Upcoming Prize Challenges
PSCR Open Innovation is looking for subject matter experts to evaluate contest results, and solvers to innovate and compete for large cash prizes! We welcome volunteers to join us as public safety experts or technical subject matter experts, and help support our prize competitions and research. Learn more on the web, or send us an email at psprizes [at] nist.gov to volunteer. View upcoming challenges!
Results/ Products/ Outcomes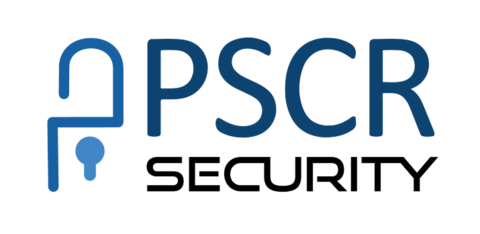 Two New PSCR Publications Highlight Test Scenarios and Use Cases for Public Safety Wireless Devices
MCPTT Off-Mode Test Scenarios
A new document provides both an overview and technical details of test scenarios for checking the protocol implementation of the 3rd Generation Partnership Project (3GPP) defined off-network mode operations of mission critical push-to-talk (MCPTT) - covering floor control, call control, and call type control. This report includes test scenarios for basic group calls, broadcast group calls, and private calls. Download it now.
Security Analysis of First Responder Mobile and Wearable Devices
With the upcoming public safety broadband networks (PSBNs), mobile and wearable devices will become ideal options for first responders (firefighters, law enforcement, and EMS). A new document reviews the current and potential use cases of these mobile and wearable devices by first responders and then analyzes these devices from a cybersecurity perspective. The goal of this analysis is to identify security objectives for mobile and wearable devices to assist jurisdictions with selecting secure devices and enable industry to design and produce securer public safety devices. Read it now.
Upcoming Events

Where to find PSCR staff this quarter:
IWCE Conference and Expo, March 4-8, 2019, Las Vegas

PSCR's Jason Kahn will participate in a panel discussion, The Mission Critical Open Platform (MCOP) for Easy Mission Critical Applications Development, on Wednesday, March 6, at 4:15PM.

Game Developers Conference, March 18-22, San Francisco

PSCR will kick off its Haptic Interfaces for Public Safety Challenge on March 18 during GDC.

IEEE Virtual Reality Conference, March 23-27, Osaka

Scott Ledgerwood will demo Haptics Challenge test environments for attendees.
And next quarter, in April, PSCR will head to Smart Cities Connect in Denver. pscr [at] nist.gov (Send us a note) if you plan to attend!
In the News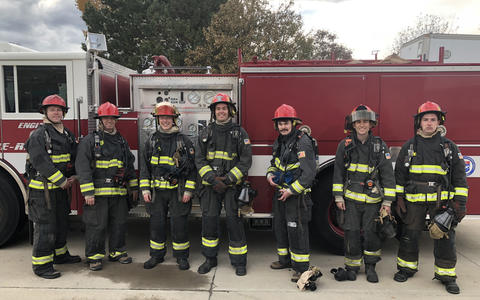 In the hopes of improving their virtual reality test environment, PSCR's VR team coordinated a fire fighter training day with West Metro Fire in Colorado. Their experience shed light on the gaps that technology must close in order to be useful for first responders. Read the blog post.
FirstNet App Ecosystem Developments Highlight PSCR Mobile Security Research, Award Recipient API
As FirstNet advances its mobile application offerings, ensuring proper security is extremely important. Critical Communications Today highlights the reasons why PSCR's security team, in partnership with NIST Information Technology Laboratory (ITL) and the National Cybersecurity Center of Excellence (NCCoE), is focused on mobile application security vetting and Federated Identity Credential and Access Management (ICAM) for the next three years, and what that means for devices including FirstNet phones, and the applications used on those devices. In addition, the article highlights an award recipient, MCOP, on their work to create an API and Open Source Implementation of an MCPTT client.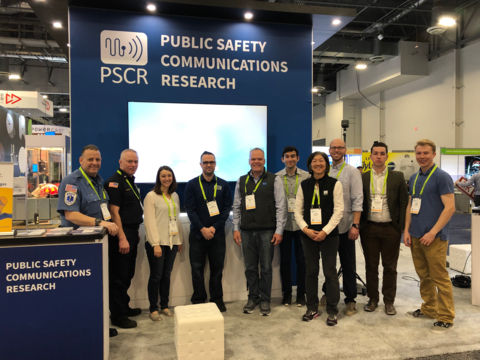 The PSCR Mission
PSCR is driven towards advancing public safety communications technologies by accelerating the adoption and implementation of the most critical communications capabilities to ensure the public safety community can more effectively carry out their mission to protect lives and property during day-to-day operations, large scale events, and emergencies.