The CHIPS Act calls for NIST to "carry out a microelectronics research program to enable advances and breakthroughs….that will accelerate the underlying R&D for metrology of next-generation microelectronics and ensure the competitiveness and leadership of the United States…."
To meet this call for action, the CHIPS R&D Metrology Program emphasizes measurements that are accurate, precise, and fit-for-purpose for the production of microelectronic materials, devices, circuits, and systems. This work leverages NIST's proven measurement science expertise, foundational communications and computing research capabilities, standards development contributions, and stakeholder engagement practices to address the highest priority metrology challenges identified across industry, academia, and government agencies. NIST will expand upon its strong track record of supporting the semiconductor technology and manufacturing ecosystem by developing, advancing, and deploying standards, reference materials, best practices, and measurement methods.
Key Research & Development Areas
In September 2022, NIST published a report titled Strategic Opportunities for U.S. Semiconductor Manufacturing, which identifies seven grand challenges that need critical attention from a metrology perspective to achieve the future state vision of a U.S.-led global semiconductor industry.
The CHIPS R&D Metrology Program aligns its research and development portfolios based on the identified metrology needs of the seven grand challenges.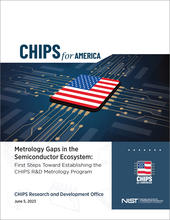 Metrology for Materials Purity, Properties, and Provenance

Advanced Metrology for Future Microelectronics Manufacturing

Enabling Metrology for Integrating Components in Advanced Packaging

Modeling and Simulating Semiconductor Materials, Designs, and Components

Modeling and Simulating Semiconductor Manufacturing Processes

Standardizing New Materials, Processes, and Equipment for Microelectronics

Metrology to Enhance Security and Provenance of Microelectronic-based Components and Products
The CHIPS R&D Office published Metrology Gaps in the Semiconductor Ecosystem in July 2023, outlining the Metrology Program's roadmap and its efforts to ensure that the research portfolio is aligned with CHIPS Act, external stakeholder needs, and NIST capabilities.